The Bowls Bag
In stock and ready to dispatch
Earn 260 points on this purchase. Join Today
1 point for every $1 spent
Since its launch in Summer 2021, the Bowls Bag has been the centre of attention. A real head-turner, its distinctive shape has earned it many nicknames - from the barrel and the cylinder to the tube bag. Needless to say it has quickly become a key member of the Cambridge Satchel family!
Inspired by a bag discovered at an antiques fair, believed to date back to the 1930s, it immediately stood out as an unforgettable design. Originally intended as a carrier for two wooden bowls, this bag is ideal for modern day life. We're sure yo'll agree that its simple cylindrical shape is unique and eye-catching.
Like all our bags, the Bowls Bag is handcrafted in the heart of England. We have replaced the traditional buckles with magnetic closures whilst maintaining the exact same look. To prevent the bag rolling we have added small feet and a detachable shoulder strap gives versatility and functionality. Once you see it you will instantly understand why we had to bring it back!
- Unique cylindrical shape
- Gold metallic feet to stop the bag from rolling
- Detachable shoulder strap to offer versatility
- Magnetic closures cleverly disguised as traditional buckles
- Our bicycle logo on the end as we are just so proud of this little stunner
- Full branding on reverse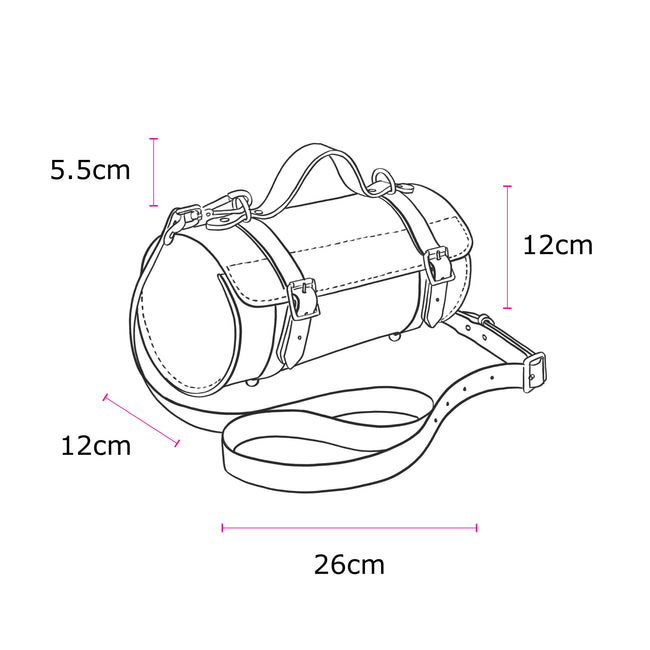 This leather bag's classic shade of forest green is synonymous with British country living. Yes, our minds swoop to the world of cars (and minis), but so many quintessentially British items are to be found in this iconic colour. Wonderfully classy, rich and unisex, this heritage colour was surely made for our timeless signature leather.
Keep your leather bag away from direct sunlight and heat to prevent fading and drying out.
Clean your bag regularly with a soft, dry cloth to remove dust and dirt.
Use our Cambridge Satchel dust bag when bag is not in use.
Apply a leather conditioner periodically to maintain its suppleness and prevent drying.
For more detailed care instructions go to https://www.cambridgesatchel.com/pages/how-to-care-for-your-bag
Hand Cream
Apple
Chewing Gum
Wireless Earphones
Keys
Purse/Wallet
Sunglasses
Lipstick
We're always looking for ways to be more sustainable, because it's already at the core of what we do. Our leather bags have always been made from natural hides, which are a product of livestock farming, and which would have otherwise gone to waste.